Jillian Elizabeth; Please call me Jilly.
Bright green eyes, black hair.
Sixteen years young.
Pansexual|Single.
Sophomore.
I N S O M N I A C.
Pierced and ink'd
Hopeless romantic.
Masochist and Sadist.
Kink.
I'm the misunderstood, the one people take advantage of and i'm slowly losing hope in mankind.
I don't trust easily, I don't fall in love easily. When I do though, I'm a hopeless romantic. I'm a sucker for Victorian romance.
My name is Jilly. I'm sixteen years old. Brought into this world, wishing I had a choice. I have a small level of confidence, although I might act cocky sometimes.
I figure I'm going to die alone, and I've accepted the fact that I'm never good enough for anyone. That sounds quite cliche, doesn't it? I don't mean it to.
I love nature, the night sky, and snow.
Music, Photography, Modeling, Drawing, Singing, and Cosmetology are my escapes.
I read way more than I should. The world is a cruel place, so why not get lost in a fictional world?
I'm generally a nice person unless, that is, if you give me a reason not to me. I take no shit from anyone, and i refuse to be talked down to.
I'm a curious person.
I'm addicted to pain.
Occasional smoker and drinker, just to relax.
I'm not your typical girl, by the way.
So try not to get attached.
AIM: insanexsanityy
SKYPE: Jillyeatsrainbows (ask me to log on if you want to add me.)
I do have a cellphone and a webcamera.
So what are you waiting for?
Let's begin.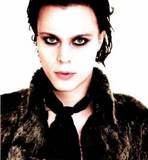 My Ville Valo