i love the rock alternative style, i always haved since i was 6 i grew up with 80s music and rock music and i think thats what influenced me as i waas growing up. i love to express my self with music, my first favorite punk band when i was 6 was offspring and acdc. i love alternative rock, rock n roll, metal, death metal and all types of metal and rock music, and screamo, and still have the heart for 80s music. my chemical romance has been my favorite band since i was 9 and still is to this day they are my heros and helped me threw things in life helped me with my sucidal thoughts and my self harming expreince , im still fighting self harm and sometimes these suicidal thoughts.. but my chemical romance has helped threw and so have others in my life. my chemical romance and acdc have infulenced me ti start my own alternative band called "sweet revenge" im the lead singer and thats my dream to have a sucessful alternative rock band had that dream since i can remeber, i love piercings and tattoos i have 4 piercings to far my nose septum and my snake bites want more in the future and planning to get tattoos. i also love having colorful hair ive had red purple and blue and i love the blue har so much, but had to dye it brown for personal reasons, im a non judgemental person im a very nice person but can be very shy, im always there for people and put people first and i listen and want to help others etc, ill be friends with anyone
im bisexual and proud.
i also suffer from modem dyspraxia , anxiety disorder, depression, adhd, i have to brothers with Autism and the mean the world to me
my favorite bands are my chemical romance, simple plan, 30 seconds to mars, greenday,funneral for a friend,yellow card, avenged sevenfold, good charlotte, silverstain,nickleback, sleeping with sirens, pierce the veil, black veil brides,acdc, coldplay, breaking benjamin, cannibal corpse,cannibal cannibis, and alot more therers so many just ask i can also be a nerd..
love comics anime manga and i love pokemon big nerd of it and love the walking dead games and loving playing games on many differant game consoles
my heros i look up to is
my mother (debbie)
Gerard Way
Miky Way
Frank Iero
Ray Toro
Bob Bryar
Shane Dawson
Mulan- disney/hua mulan
and a few more...
i am more of a tomboy and i love to skate board and chill with friends,
but i try to speak from my mind and heart "believe in yourself and dont take anybodys Vampiresocial shit"-Gerard Way
if your personality is beautiful in the inside your more beautiful on the out side if your ugly in the inside you are more ugly on the outside to me its about the personality not there looks everyone deserves a chance
i have problems with mirror i get depressed i smashed my mirror cause im ugly as Vampiresocial,, but hey its life
i dont judge anyone message me and just ask
helena
http://www.youtube.com/watch?v=KddOzDsl_NY&featur e=youtube_gdata_player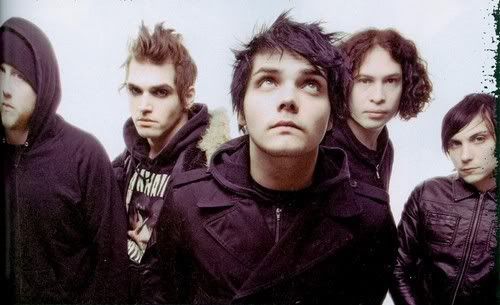 my chemical romance <3 my heros
>

i also fall to the ground because at times im weak because of this world but at times i dont let anything stand in my way or letting the world beating i fight and be strong by beliving my self i get myself back up onto my feet
would love to read the messages you sent me
mulan has inspired me and her story i would do the same cut my hair off with a sword dress as a man and fight to war just take place and protect someone in my family and find out who i am
~Magickal Graphics~
people say im out of this world! but hey! its just me! just me being myself and im happy im like a little charmander in circles smiling havig fun like a helenakilljoy
ill give free hugs
having a band is a dream come true. special thankyou to my friends in the band courtney kayla amber and a special thanks to my chemical romance thank you for embracing me and help my dream and keeping me alive
-Helena xx
"listen up me and my four little brothers are in a little band called my chemical Vampiresocial romance and dont you ever ever ever EVER forget it"- gerard way <3
>